Throughout the different strategic plans, the Viscofan Group has built a sound business model. This characteristic entails the creation of cash flows that allow investment projects to be carried out in order to improve value creation, which is shared with shareholders in cash and at the same time maintaining a sound balance sheet structure.
In this respect, the stock market continues to recognise the Viscofan Group's value creation, and is combined with the Group's commitment to shareholder remuneration. Thus, in the last ten years the average annual return has been 10% and 13%, taking into account shareholder remuneration. Analysing the creation of value over time, this is greater for shareholders who have held shares in Viscofan for a longer period of time. For example: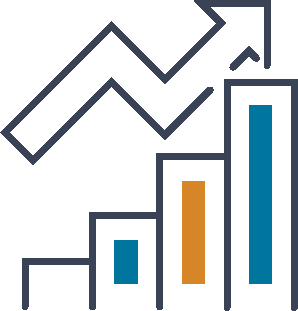 The investment of a shareholder who invested 1,000 euros in Viscofan shares at the end of December 2009, and held them at 31 December 2019, was worth 2,638 euros, and in these 10 years this individual also received 688 euros in dividends, a combined return of 333%.
The Viscofan Group is immersed in the strategic plan known as MORE TO BE, which covers the period between 2016 and 2020, looking ahead in its value creation proposal that entails the objective of leading the main casings markets in service, technology and cost. An ambitious and investment-intensive target, with €327 million earmarked for investments between 2016 and 2019 but without requiring additional efforts from shareholders while maintaining a sound balance sheet.
Alongside this, the financial and operational strength of the company allows for a further increase in shareholder remuneration. Thus, the remuneration proposed by the Board of Directors for 2019 amounts to €1.62 per share, 1.3% higher than the ordinary remuneration of 2018 and represents a total distribution of €75.1 million, equivalent to 71.1% of the total net profit attributed to the Viscofan Group.
In terms of profitability, the total dividend proposed for 2019 is 3.4% of the average share price during the year.
The detail of Viscofan's share performance compared to that of Ibex in the last 10 years is as follows:
Buy (31/12)
Buy (31/12)
2010
2011
2012
2013
2014
2015
2016
2017
2018
2019
TAE
2009
Viscofan
59,7%
61,4%
141,0%
132,8%
148,1%
213,3%
163,8%
209,7%
170,9%
165,2%
10,2%
2009
Ibex 35
-17,4%
-28,3%
-31,6%
-16,9%
-13,9%
-20,1%
-21,7%
-15,9%
-28,5%
-20,0%
-2,2%
2010
Viscofan
1,1%
51,0%
45,8%
55,4%
96,2%
65,2%
94,0%
69,7%
66,1%
5,8%
2010
Ibex 35
-13,1%
-17,2%
0,6%
4,3%
-3,2%
-5,1%
1,9%
-13,4%
-3,1%
-0,4%
2011
Viscofan
49,4%
44,3%
53,8%
94,1%
63,5%
91,9%
67,9%
64,3%
6,4%
2011
Ibex 35
-4,7%
15,8%
20,0%
11,4%
9,2%
17,2%
-0,3%
11,5%
1,4%
2012
Viscofan
-3,4%
2,9%
30,0%
9,4%
28,5%
12,4%
10,0%
1,4%
2012
Ibex 35
21,4%
25,9%
16,9%
14,5%
23,0%
4,6%
16,9%
2,3%
2013
Viscofan
6,6%
34,6%
13,3%
33,0%
16,4%
13,9%
2,2%
2013
Ibex 35
3,7%
-3,8%
-5,7%
1,3%
-13,9%
-3,7%
-0,6%
2014
Viscofan
26,3%
6,3%
24,8%
9,2%
6,9%
1,3%
2014
Ibex 35
-7,2%
-9,0%
-2,3%
-16,9%
-7,1%
-1,5%
2015
Viscofan
-15,8%
-1,1%
-13,5%
-15,3%
-4,1%
2015
Ibex 35
-2,0%
5,2%
-10,5%
0,1%
0,0%
2016
Viscofan
17,4%
2,7%
0,5%
0,2%
2016
Ibex 35
7,4%
-8,7%
2,1%
0,7%
2017
Viscofan
-12,5%
-14,4%
-7,5%
2017
Ibex 35
-15,0%
-4,9%
-2,5%
2018
Viscofan
-2,1%
-2,1%
2018
Ibex 35
11,8%
11,8%
Viscofan stock vs. IBEX 35 index
Strategy MORE TO BE 2016-2020
Strategy Be MORE Period
Strategy Be One Period
Share price €
2019
2018
2017
2016
2015
2014
2013
2012
2011
2010
2009
Year-end price
47,10
48,12
55,01
46,85
55,64
44,07
41,35
42,81
28,66
28,36
17,76
Year high
56,55
66,20
56,33
56,06
60,93
48,36
43,70
42,81
30,59
29,65
18,20
Year low
40,12
46,20
46,75
41,84
43,04
36,24
35,65
28,45
22,51
17,64
12,81
Viscofan in the stock market evolution
Year end 2019
Year end 2018
Year end 2017
Year end 2016
Year end 2015
Year end 2014
Year end 2013
Year end 2012
Year end 2011
Year end 2010
Year end 2009
% annual change Viscofan
-2,1%
-12,5%
17,4%
-15,8%
26,3%
6,6%
-3,4%
49,4%
1,1%
59,7%
26,3%
% annual change IGBM
10,2%
-15,0%
7,6%
-2,2%
-7,4%
3,0%
22,7%
-3,8%
-14,6%
-19,2%
27,2%
% annual change IBEX 35
11,8%
-15,0%
7,4%
-2,0%
-7,2%
3,7%
21,4%
-4,7%
-13,1%
-17,4%
29,8%
% annual change Euro STOXX 600
23,2%
-13,2%
7,7%
-1,2%
6,8%
4,4%
17,4%
14,4%
-11,3%
8,6%
28,0%
% annual change Ibex Medium Cap
8,4%
-13,7%
4,0%
-6,6%
13,7%
-1,8%
52,0%
13,8%
-20,7%
-5,6%
13,8%
% annual change Sub sector Food and beverages IGBM
1,8%
-8,4%
5,2%
-5,4%
26,4%
-5,2%
4,7%
25,0%
-6,3%
25,3%
7,0%
Stock market trading data
2019
2018
2017
2016
2015
2014
2013
2012
2011
2010
2009
Market capitalization at year-end (millions of €)
2.190,2
2.237,6
2.563,7
2.183,4
2.593,0
2.053,6
1.927,1
1.995,1
1.335,7
1.321,7
827,7
Traded volume (million of €)
1.230,5
1.669,1
1.995,2
2.707,1
3.179,9
3.233,0
2.506,4
1.426,9
1.274,1
925,4
663,1
Daily average trading volume (million of €)
4,8
6,5
7,8
10,5
12,3
12,6
9,8
5,6
5,0
3,6
2,6
Traded shares
25.815.115
29.807.220
38.658.041
54.701.597
58.329.352
78.062.343
63.212.344
41.360.939
47.049.517
41.668.063
42.112.723
Daily average of traded shares
101.236
116.891
151.600
212.022
225.210
304.931
247.892
161.566
183.787
162.766
165.798
Share ratios
Year end 2019
Year end 2018
Year end 2017
Year end 2016
Year end 2015
Year end 2014
Year end 2013
Year end 2012
Year end 2011
Year end 2010
Year end 2009
Listed shares
46.500.000
46.603.682
46.603.682
46.603.682
46.603.682
46.603.682
46.603.682
46.603.682
46.603.682
46.603.682
46.603.682
Earnings per share (1)
2,273
2,658
2,620
2,684
2,575
2,284
2,178
2,254
2,172
1,745
1,379
Remuneration per share (2)
1,620
1,600
1,550
1,450
1,350
1,180
1,120
1,100
1,000
0,800
0,623
(1) Net earnings per share is calculated by dividing net profit by the average weighted number of ordinary shares in circulation during the year, excluding treasury stock
(2)Includes: dividends, capital reimbursement, refund of issue premium and bonus for attending the General Meeting